Gold coins, silver coins, gold bullion and silver bullion are the most common forms in which people buy precious metals. Precious metal coins are usually minted by a respected governmental body, which also guarantees the purity of the minted coin. Coins are struck by the mint, either for investment purposes or their numismatic (coin-collecting) value. It is important to understand the difference between an investment-grade coin and a collector proof.
The US Mint offers a special collector version of the American Gold Eagle Proof coin that uses the same gold alloy as the investment grade coin and comes with a special numismatic finish. The US Mint sells these coins directly to collectors until they exhaust their initial run. The purity of a collector coin is no different than that of an investment coin.
Numismatic coins have some advantages over investment-grade versions, including rarity and uniqueness. In addition, neither dealers nor investors are required to disclose the purchase or sale of collector coins, nor identify themselves when the coins are surrendered.
Both versions of the American Gold Eagle Proof coins are made of 22K gold. Compositionally, the coins are 91.67% gold, 3% silver and 5.33% copper. The Mint uses 22K gold because the American Eagle was designed to be circulated. The alloy materials allow the coin to stand up to this wear and tear. Collector coins have a premium finish and retail for a slightly higher initial price.
American Gold Eagle Proof
The American Gold Eagle Proof coin is one of the most recognizable gold investments in the world. Investors purchase circulated American Gold Eagle Proof coins from coin and precious metals dealers located throughout the United States. The proof version is struck multiple times at the Mint and in uncirculated condition, has a striking mirror finish. These coins are approved for IRA investments.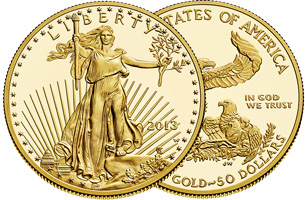 Gold American Eagle Proof coins feature Lady Liberty on the obverse, and a pair of eagles on the reverse. American Gold Eagle Proofs come in 1 oz, ½ ounce, ¼ ounce and 1/10 ounce versions and are priced for resale according to weight and the spot price of gold in London.
American Silver Eagle Proof
American Silver Eagle Proof coins are made from one troy ounce of 99.9% pure silver and are struck with a collector finish. Uncirculated American Silver Eagle bullion coins (minus the collector finish) are also available through coin and precious metal dealers. As with American Gold Eagle Proofs, these silver coins are approved for use as IRA investments.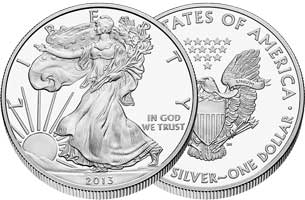 Learn About Other Investment Coins, FREE!